The Lone Ryder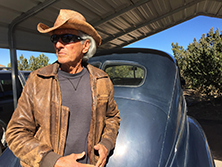 The Lone Ryder says….
Since the 1940s, when I first attended school, music was already in my soul. Back in 1962 I was presenting regional record "sock hops" for teenage rock 'n' rollers.
My first gig was as a fill-in DJ, doing top 40 stuff. My love for traveling eventually landed me on stations in Mississippi, New Mexico, Arizona, Maine, Florida and North Carolina under various names and formats - Vintage Rhythm & Blues, Rock 'n' Roll, Swinging Jazz, etc.
To be honest, I never liked being part of the rather boring, rigid, Big City radio format. You see, I wanted to get into my own head, be myself, spin the recordings my cherished listeners really wanted to hear, without the constant repetitive time, temperature, call letters after each and every tune. So when I got bored, I hopped into my '41 Olds and moved on to my next venture.
I believe that you've got to just be yourself behind the mike and have fun… talk to the listeners, not at them!
To this day, this Lone Ryder still enjoys "crashing thru the forces of big city commercial radio conformity" - just walking & talking to a different beat! I broadcast the "Real Deal" in recorded history. Throughout the decades I've met and interviewed many famous recording stars, which gave me great insight into the origins of this music… you see it ain't about me… it's about the music!
That's my mission, here on KWLP The Peach for the Hualapai Community.
'cause… nothing brings back memories like the music you love!